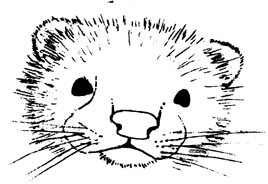 Home
Our Own Pages

Zax
Tarna
Nossa
Squirrely
Gavin
Tank
Boomer
Dorsey

Over The Rainbow Bridge
MeLee
Chewie
Bandit
Titan
Gimbit
Puck
Windy
Evil
Thaddeus
Other Stuff
Ferret Videos
Our Awards
Sign up for my award
Read about Kodo
My Buddy Al
Mike Tyson's Ferret's
BEWARE ABOVE LINK IS VERY GRAPHIC!!! Not for the weak stomach.
ICQ Skins
Download The Ferret Test
MeLee's Award Page.
---


MeLee is now giving out her own awards to pages she finds and would like to drag in to the couch (her favorite hidey-hole).
Here is a sample...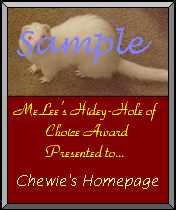 If you would like your page to be considered for an award, email MeLee and she will look over your page and let you know what she thinks (be sure to include the full URL address in you email so she can find your site).
There is one rule...
All pages submitted must be viewable by ALL ages (NO X rated sites)!!!