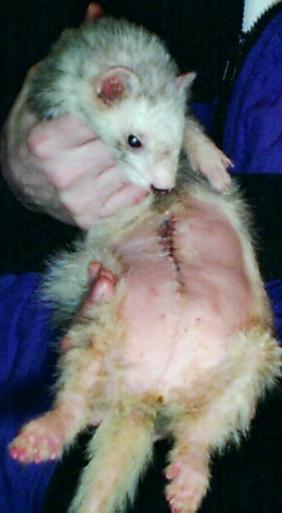 That Friday while I was giving Titan his meds he jerked and pulled out one of his stitches. It started to bleed, and after calling the shelter director, she told us how to stop it. Then after letting Titan calm down a little bit I took him out of his cage to look at the stitches again and I noticed a small piece of skin coming out of the incision. Everyone told me it just looked like a piece of fat sneaking out. After a little while I checked it again and the piece if skin was a little bigger so I called Dr. Kim. She told me the same thing, it was most likely a piece of fat and all that would happen is there would be a little bigger scar. But to be safe, I should bring him in so she could look at it. So Titan and I headed off to the vet. When I got there I was taken directly to an exam room. I thought I would hold Titan while I waited for the doctor to come in. When I took him out of his carrier that little piece of skin was now a large bloody mass hanging out of his abdomen. I panicked and ran out to the lobby with him and they rushed me back to the exam room, then Dr. Kim ran in and grabbed him from me. He was taken to emergency surgery. It turned out he developed a secondary infection in his abdomen.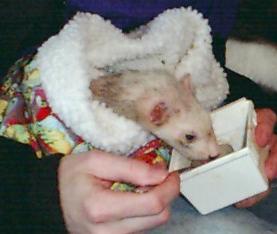 If that stitch had never broke open Titan would have been died within 24 hours. He went from the vet to the shelter because it is set up for the intensive care he needed. On top of his other meds, he required 3 different antibiotics to clear up the infection. We were warned that it was so bad that it might not clear up. But after a lot of TLC he got better.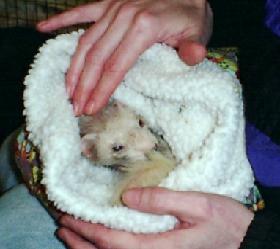 A few weeks latter he stared to have trouble peeing again so we put him back on antibiotics. After a few days we saw that it was not helping. He had also stopped eating due to the fact he was not feeling well. Then when I got home from work on 07/24 I looked in on him and when he went to use the litter box and he was whining. He could no longer go at all. I called the shelter director at 4:30 in the morning and woke her up to tell her we were coming over.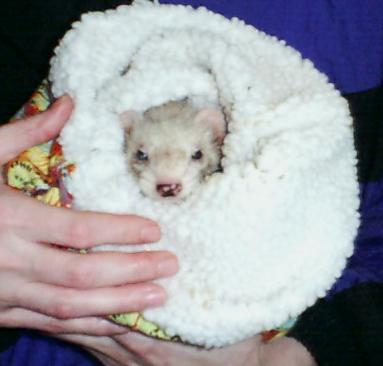 Titan crossed over the Rainbow Bridge at 6:15 that morning. After he was given the shot to ease the pain and as he started to drift off to sleep he used his last remaining strength to give his mom one last kiss. He never forgot to give anyone kisses. He was one of the sweetest little boys I have ever known and has left an enormous empty spot in our lives. Titan now plays with Bandit till we are there to once again receive his loving kisses.
You showed us that ferrets at any age can be a joy to share your life with.
Fare well sweet boy...
Rest in peace Titan
A Poem By Mom...
I came to you 2 years ago,
I was thin and dirty and scared.
You gave me love, and gave me hope,
To this nothing compared.
I gave you kisses, you gave me
Treats, I gave you love and it
Was returned.
I danced and played and right away knew,
This is the love for which I yearned
As I grew older, weaker,
Your love I could not resist
And as I suffered daily.
Youíre love still did persist.
You cried when I was sickly,
And I gently kissed your cheek.
You said Iíll always love you,
Even as I went to sleep.
You gave me rest from all
My pain, even as your tears
Did fall like rain.
I hated to leave you, but we knew
That even in death , our love still
Grew.
So over the Bridge , I did cross.
I knew that you would feel my loss,
But just think, in time to be, we will
once again together be
and I will
Give you my kisses once more.
Sandy Russell
Background music:
Heaven Can Wait
By: Meatloaf
Heaven can wait
And a band of angels wrapped up in my heart
Will take me through the lonely night
Through the cold of the day
And I know
I know
Heaven can wait
And all the gods come down here just to sing for me
And the melody's gonna make me fly
Without pain
Without fear

Give me all of your dreams
And let me go along on your way
Give me all of your prayers to sing
And i'll turn the night into the skylight of day
I got a taste of paradise
I'm never gonna let it slip away
I got a taste of paradise
It's all I really need to make me stay --
Just like a child again

Heaven can wait
And all I got is time until the end of time
I won't look back
I won't look back
Let the altars shine

And I know that I've been released
But I don't know to where
And nobody's gonna tell me know
And I don't really care
No no no
I got a taste of paradise
That's all i really need to make me stay
I got a taste of paradise
If I had it any sooner you know
You know I never would have run away from my home

Heaven can wait
And all I got is time until the end of time
I won't look back
I won't look back
Let the altars shine

Heaven can wait
Heaven can wait
I won't look back
I won't look back
Let the altars shine
Let the altars shine