In Loving Memory Of Thaddeus
12/95 to 12/8/03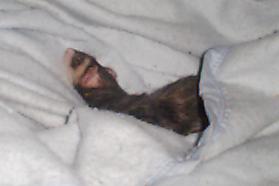 Thaddeus was the youngest of 3 boys when he came to us as a foster. He was bright, a bit overactive, and precocious, and could sniff out a fruitloop out from a hundred paces.
We never knew what he was going to be into, on or under at any given moment.
He loved to play, and made it quit apparent it didn't matter with who, a happier boy we had never seen. Considering how he had arrived at the shelter, he was and amazingly sweet.
A couple years ago, Thad had lost both of his brothers Titan and Gimbit, with whom he'd been with since kithood , he was a bit depressed, but within a few weeks, was back to his old self, climbing the walls and driving me insane.
He just couldn't seem to sit still, and was always good for a giggle when he played....so bright-eyed and full of life. Then at the end of October, he lost yet another cage-mate, his brother Puck. This really seemed to take a lot of the wind out of his sails, he grew depressed....he would still play, but he had lost that special joy that made him Thad.
In the beginning of December, yet another cagemate was lost....he remained the only survivor from a cage of 5. he crashed quickly,within days....he dehydrated, lost weight...even with my attempts to force feed , and just simply lost the will to live, our happy boy was telling us he was no longer happy ,and longed to be with his brothers and sisters.
Once again I find myself calling Judy, bringing him over and seeing if there was anything she could do for him. I knew in my heart when we walked out that door, that our precious Thad was never coming home again.
Judy called us the next day to tell us he had passed quickly and quietly , snuggled in his favorite sleepsack we had left for him.
He had died of a broken heart , missing his brothers and sisters , so they called him home to play as only he could.
With Thad gone, so went our hearts and souls. So went a time in our lives that we shall cherish forever.
We love you so very much you silly goofy boy. You'll remain in our hearts and minds forever baby boy.