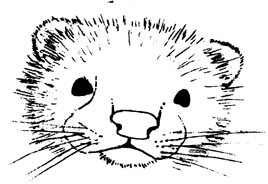 Home
Our Own Pages

Zax
Tarna
Nossa
Squirrely
Gavin
Tank
Boomer
Dorsey

Over The Rainbow Bridge
MeLee
Chewie
Bandit
Titan
Gimbit
Puck
Windy
Evil
Thaddeus
Other Stuff
Ferret Videos
Our Awards
Sign up for my award
Read about Kodo
My Buddy Al
Mike Tyson's Ferret's
BEWARE ABOVE LINK IS VERY GRAPHIC!!! Not for the weak stomach.
ICQ Skins
Download The Ferret Test
Tarna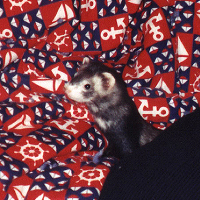 My name is Tarna. Mom named me from the woman on the movie "Heavy Metal". I am a little stinker. I love to spill soda. I think my record is 3 in one night. I like to wait for some one to get up then I run up onto the table and knock it over. I like to see them run back in the room and try to rush to find something to clean it up with. I walk with a slight limp because when I was a baby I was playing with Chewie on the bed and I fell off. I dislocated my shoulder (you can see me bandaged up in my pictures). But my vet fixed me up almost as good as new. I have no problems getting around just a slight limp.
Mom and Dad seem to think I have gotten mad since the fosters came to stay with us. I will go after them and try to beat them up. After getting my butt kicked by a few of them I don't do it as much any more. It is not that I don't like them it is that I don't like them in my home. Well I'm sure I will get use to them.
Likes
Dislikes

Can tipping (I think it is something like Cow tipping)
Dates
Playing with "the string toy"
Giving kisses

The fosters
an upright can of soda
Falling off the bed
Here I am all bandaged up and being held by dad.
I will not tip this beer over.

I will not tip this beer over.

I may tip this beer over if they leave the room.

Being hurt did not stop me from begging for treats.
This is why you don't turn you back on a ferret.
See how cute I am?
My soda!!
It is hard to tip it over with you holding it, Mom.
Cool, chips!!
I'll put this away.
Copyright © 1998-2003 MeLee Moo Inc.
No photographs or any portion of this site may be reproduced
without the express written permission of MeLee.
(Under penalty of "poofing")
All rights reserved.