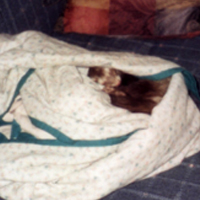 Puck was never prone to getting sick. He would get the normal cold but over all he was healthy, or so we thought. I got home from work at about 4:30 Sunday morning (9/28/03) and Sandy told me that Puck was having trouble breathing. He was sleeping in a blanket in the bedroom (normally the bedroom is a ferret free zone). When I went to check on him he was just climbing out of the blanket. I picked him up and saw that he was breathing very fast. I checked him over for any signs of injury or see if I could feel any internal problems. I couldn't find anything wrong.
So once again I called Judy at FFGM... 5:30 am. She wanted to take a look at him to see if she could figure out what was going on. When she examined him she felt that he was in some sort of pain but we couldn't figure out why. So he got some pain meds and and was checked over again. Judy checked his heart and found out that it sounded like his heart was skipping beats. We thought that he my have a kidney infection, which is painful, and that might be causing his distress. So he got some antibiotics and Judy said that she would get him into the vet the next day. So we left him at the shelter and went home. That was the last time we saw him.
Monday morning Judy called us and told us that the X-ray showed that Puck had fluid build up around his heart and lungs (called Cardiomyopathy). After talking about it we decided that we would try to treat him with medication. We have seen other ferrets do well with this treatment.
Judy went after work to talk to the vet and get Puck and his medication. While she was talking to her and explaining that when she (the vet) looked closer at the X-ray she found tumors on his heart. It was then that one of the vet techs ran in and said that Puck had gone into respiratory arrest. Knowing that he was beyond medical help they helped him pass peacefully.
Puck was the first one I was not there with to comfort him in his passing. But Judy was there and that makes me feel better. I don't know what we would do without her. She is a saint in my eyes. Thanks for all you have done for us, it is truly appreciated.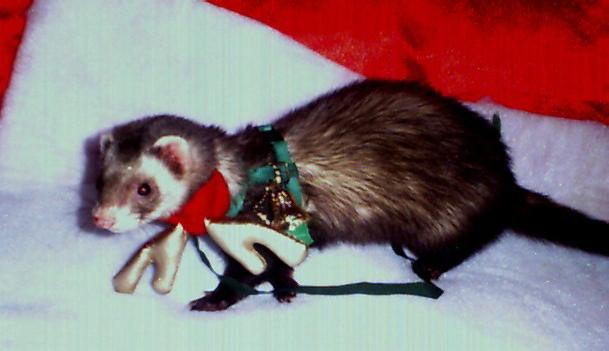 Good bye our sweet little Puck.
Me and your mom miss you and our home is not the same anymore.
You taught us so much and never asked for anything in return.
I know that Titan, Gimbit, Bandit and Chewie will take good care of you till we are all together again.
We love you, rest well Puckster.