Notice: The packing peanuts shown in this photo are made of cornstartch, you should never, ever allow your ferret to play in or eat styrofoam or foam rubber!
"Please take me home".
But Judy was unwilling to let me go due to my awful fear of other ferrets.
For months Mom asked, and Judy said no.
Well, Mom really wanted another ferret (I guess the other 8 weren't enough to keep her busy)!
Dad went to the shelter one day, to help clean and unload stuff.
When Lo' and behold, he talked Judy into letting me go home with him!
Dad came home and placed me in bed with her.
Mom wasn't too sure about who I was at first, but then she let out a cheerful "WINDY"!.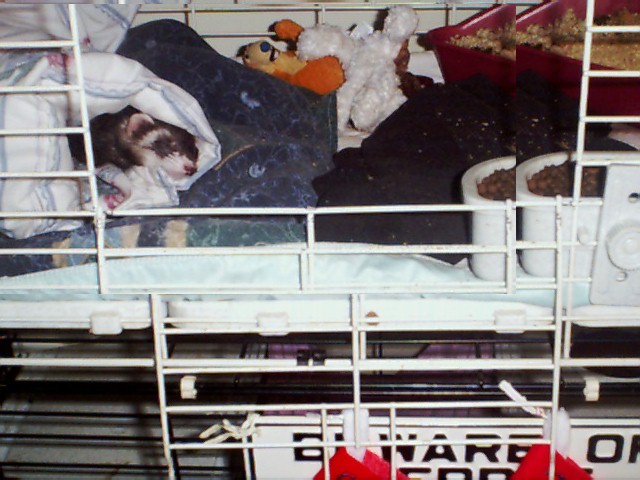 Mom actually had a tear in her eye. I knew then I was home.
Now I am almost as naughty as everyone else (except I can't see due to cataracts).
I get fruitloops, raisins, chopped dates and all the attention I could ever dream of!
I have gotten over my fear of other ferrets, and play with Puck and Thaddeus (2 of mom and dad's other foster kids)
I am quite a round little girl! (Mom calls me a tennis ball with legs).
I do miss the people that came to the shelter, but Mom and Dad are making up for that.
I know Mom loves me (her friend Jeannette says she can hear it in Mom's voice whenever she talks about me). and I know Dad loves me too
(even though he doesn't say it).
I, myself am just happy to have somebody to love me and call me "punkin'".